The Future of Australian-China Business Relations: Implications for the Sale of Australian Businesses
It's quite evident from recent geopolitical events that the future of Australian-China business relations is shrouded in uncertainty - posing significant implications for the sale of Australian businesses! Australia and China have long had a complex and dynamic economic relationship, with significant trade and investment ties spanning a range of sectors.
In recent years however, the relationship has faced a number of challenges, including political tensions and a shifting global economic landscape. As our two countries look to the future and try to navigate complex and evolving political landscapes, the future of Australian-China business relations will have significant implications for the sale of Australian businesses. Thinking of selling your business to a Chinese buyer? This article is for you.
Historical Context
The economic relationship between Australia and China is fascinating and complex. Emerging in the 1970s, when China (under the leadership of Deng Xiaoping) began to embrace market oriented reforms and open up China to the world. At that time, Australian businesses saw a unique opportunity to engage in trade and investment with China, and since then, the relationship has continued to grow and evolve.
Australian exports to China have become a vital contributor to the country's economic growth, and in 2023 China stands as Australia's largest trading partner, with two-way trade valued at over AUD 235 billion. This economic interdependence has brought immense benefits to both nations, but it has also brought about a host of challenges and complexities. But just how much investment comes from china anyway?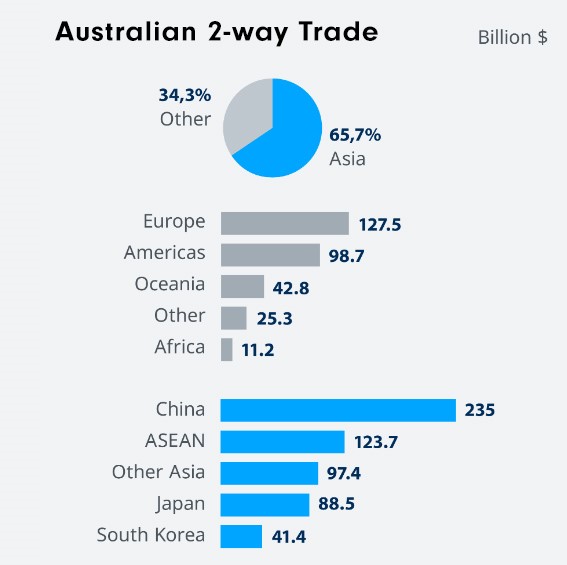 Chinese investment in Australian businesses has been particularly significant, with high-profile acquisitions in industries such as mining, agriculture, and real estate. The ramifications of these investments have been both positive and negative, with Australian businesses often finding themselves caught in the crossfire of navigating the Chinese market's intricate web of regulations and cultural nuances.
Despite the many benefits of this relationship, it has not been without its struggles. Political and economic tensions between the two nations have surfaced in recent years. Issues such as trade, human rights, and national security have created considerable friction…and often exacerbated by the media coverage. The uncertainty and instability that have arisen from these tensions have made it challenging for businesses on both sides of the relationship to navigate and plan for the future with certainty.
The Current State of Affairs
In spite of the obstacles, the relationship between Australia and China endures as a resilient and multifaceted economic partnership. The bedrock of this association is trade, with Australian exports to China forming a sizable chunk of the country's entire exports. This includes an array of vital metal and agricultural resources such as: iron ore, coal, gold, wheat, wine and dairy. Further, China is a key source of imports for Australia, with an assortment of manufactured goods, textiles, and electronics flowing into the country.
Investment too, plays a vital role in this association, with Chinese firms acquiring various Australian enterprises of note in recent times. These investments have brought both opportunities and obstacles for Australian businesses as they endeavour to access the colossal and rapidly expanding Chinese market.
Tourism is another crucial area of cooperation, with China serving as a principal source of visitors for Australia. In the year 2019, over 1.4 million Chinese tourists arrived in Australia, making up the biggest fraction of international visitors to the country. The COVID-19 pandemic dealt a severe blow to the tourism industry, but it is predicted to recover in the forthcoming years as travel restrictions are eased.

6 Tips for Australian Sellers
As an Australian business owner looking to sell to a Chinese company, some practical measures you can take include:
Ensure that the sale of your business complies with both Australian and Chinese laws.
Ensure that the purchasing Chinese entity has the appropriate investment Visa to purchase an Australian business.
Given the complexity in cross-border laws, seek legal advice from experts who are experienced in cross border transactions.
Discuss in great detail what the terms of the sale will be and any potential regulatory hurdles that may arise from these terms.
Take into account the many cultural and political differences between your business and the Chinese buyer.
Seek guidance from cultural consultants, business brokers or professional intermediaries
In summary, use experts and don't cut corners!


Future outlook
The future of Australian-China business relations is difficult to predict. It is an enigmatic and intricate affair, shaped by a range of ever-changing intricate and interwoven factors. It is highly probable that the ongoing political and economic tensions between these nations will present an enduring challenge for stable businesses dealings on either side of the divide. Nonetheless, there is a silver lining to this cloud of uncertainty - opportunities abound in nascent fields such as technology and sustainability, which could potentially cultivate a more robust and resilient relationship over time.

Implications for the sale of Australian businesses
The future of Australian-China business relations is a matter of profound consequence, particularly for the sale of Australian businesses to Chinese buyers. The present state of affairs, if left unaltered, may very well affect the value and desirability of Australian enterprises for Chinese investors. However, in the event of amelioration or stabilization of this relationship, a world of prospects may await Australian businesses seeking to sell to Chinese buyers.
The future of Australian-China business relations bears great significance for any Australian business that aims to sell to Chinese buyers. It is essential for such entities to meticulously deliberate on the possible advantages and pitfalls of such a sale, given the broader context of the state of Australian-China business relations. This, in turn, necessitates a sophisticated strategic plan as well as a profound comprehension of the economic and political landscape.
For Australian businesses aiming to capitalize on potential opportunities in China, a fundamental shift in outlook is necessary. One must adopt a more nuanced perspective that takes into account the complex interplay of geopolitical and economic factors in this dynamic region. A firm grasp of these realities will be indispensable for any Australian enterprise looking to explore the possibilities of accessing the Chinese market through partnerships or sales.


Conclusion About Australian-China Business Relations
The economic relationship between Australia and China is an intricate and multifaceted affair, encompassing trade, investment, and tourism as its key pillars. Nevertheless, this relationship has encountered a plethora of obstacles in recent times, including political strains and an ever-shifting global economic terrain.
In light of the aforementioned challenges, both nations must now embark on a journey of introspection and contemplation, recognizing the necessity for Australian businesses to be acutely mindful of the dangers and prospects that lie within the Chinese market. This requires a comprehensive strategic blueprint, predicated on a profound understanding of the intricate and ever-evolving landscape of this dynamic domain.