Selling a business can be a time consuming and complicated process. Many business owners choose to work with a business broker to help them navigate what can often be a complex and stressful period of time. Business Brokers are professionals who specialize in buying and selling businesses, providing advice based on years of experience, providing support and a range of services to help you sell your business more efficiently and for the best price.
Using a broker also comes with costs, which can be a significant factor in your decision of whether to use one or not. In this article, we'll compare the costs of selling a business with and without a broker, so you can make an informed decision.
Benefits of Using a Broker
There are several crucial benefits to using a broker when selling your business.
As the seller, you will have access to a wider pool of potential buyers. For example, Lloyds Brokers have networks of national and international contacts, trust and relationships built over decades. Our brokers also have systems and resources to find interested buyers more quickly.


Our experienced brokers understand how to value your business based on various models (such as EBITDA). By using a broker, you will have the peace of mind knowing that the sale price set is both reasonable enough to attract buyers, but also fair to you.


Brokers may often assist with administrative tasks involved in selling a business. They can help you prepare your business for sale. They can communicate with buyers and lawyers, handle paperwork and make the process of selling your business smoother and more efficient.


In addition to finding buyers, the team at Lloyds Brokers are skilled at negotiating and closing deals. We will help you achieve the best possible price for your business. The best possible price is achieved when multiple buyers are willing to simultaneously bid for your business. In these scenarios, the fear of missing out to the competition will drive the sale price higher.


Price is one aspect of your business' sale, however the non-financial terms surrounding the sale are often just as important. Terms such as :


How long the existing owner will remain employed in the business after the sale.
The timeframe and instalment plan of the payout.
Penalties or bonuses for how the business performs after the sale.
Penalties imposed on the new owners if they do not pay out on time.
Will all intellectual property, leases, loans, equipment and vehicles be sold as part of the sale. Or will some remain with the existing owner.
Will the owner be available for consulting and advice post sale. If so, will this be pro bono or at a fee.
All of these terms need to be negotiated as part of the structure of the deal. An oversight or wrongly negotiated term can prove to be a costly mistake. It helps to have an experienced broker negotiating in your corner.


Maximum Value, Fast!
We specialise in achieving the maximum sale price for your business with the best possible deal structure for you and within a fast timeframe.

Real Business Experience
Lloyds have over 39 Years of industry experience with a team of passionate and qualified business brokers, specialising in mid-market business sales of $1 million to $100 million.

Free Business Appraisal
A qualified business broker will provide you with an obligation free, pre-sale appraisal of your business, so you know what approx timeframe and price to expect before proceeding.

Access To Buyers
Lloyds has an Australian and International reach, with a database of over 50,000 prospective buyers and equity firms ready to start marketing your business to.

Confidentiality Guaranteed
With discrete marketing techniques your confidentiality before, during and after the sale process is guaranteed.

Step-By-Step Guidance
We step you through the process finding the right buyer, preparing to achieve maximum sale value and closing the sale.
Cost of Using a Broker
While brokers provide valuable assistance in selling your business, all brokers charge for their services. The most common way brokers are paid is through an upfront marketing contribution and then a commission (a percentage of the sale price) once the sale contract has been executed. The exact percentage varies between brokers and deal sizes, but it is typical in the industry for the commission to be between 5% and 10% of the sale price.

In addition to the commission, brokers may also quote additional fees for optional services such as additional marketing initiatives and once-off appraisals. These fees can vary significantly depending on the complexity of the sale and the services required.

If you're considering not using a broker, we highly recommend that you obtain quotes from brokers anyway so that you know what your saving will be. This will allow you to make an informed decision either way.


Alternatives to Using a Broker

If you decide that the cost of using a broker is not right for you, there are some potential alternatives to consider.
One option is to sell the business yourself. This can be a time-consuming process, as you will need to manually approach and vet potential buyers directly. Acting on your own behalf may also reduce the perceived legitimacy of your business sale. However if you have experience selling business and the business acumen to complete the process yourself, it can save you considerable costs related to the broker's commission. If you do sell a business yourself, ensure that you always act through a solicitor. Solicitors can save you from falling into legal pitfalls, saving you much money and stress.


Another option is to work with an accountant, a business transfer specialist or lawyer. These professionals can provide some of the same services as a broker, such as assistance with legal paperwork. While their services usually come at a lower fee, is unlikely that they will have a network of buyers that they can market your business to. They may also lack experience or the incentive to negotiate for the best price or the best terms of sale.
Comparing The Costs: A Case Study
To help you compare the costs of using a broker versus alternatives, here are two fictional scenarios to consider.

Scenario 1:
John Smith is a retiring baby boomer who wants to sell to the next generation. John believes his business should be valued at approximately $2 million. To avoid commission and fees he heads down the path of selling the business himself via his personal network of contacts. After 6 months of paperwork, negotiations and meetings John is able to find a buyer for his business. After another 2 months of legal paperwork and review, the contract of sale is signed and John settlement is executed.

John is happy that he saved approximately $100,000 of commission and fees, but he believes that he made several important concessions in the terms of the sale. For years after, John wonders whether using a business broker would have resulted in a better negotiated deal.


Scenario 2:
John Smith contacts a business broker to value and sell his business. He agrees to a 5% commission with $10,000 of upfront marketing fees. The business broker values his business at $2.2 million. After 4 months of marketing, meetings and negotiations on John's behalf, the broker has found 3 prospective buyers for John's business. Over the next 2 months, John and his broker meet with the prospective buyers to see which would be the best fit and offer the best price. 1 of the 3 buyers turns out to not be suitable. The other 2 buyers are eager to proceed with the sale. The broker plays the buyers off each other to secure a premium sale price of $2.4 million.

The broker receives a commission of $120,000 (plus the $10,000 upfront marketing fee). John is happy to receive the remaining proceeds of $2.28 million. A price that exceeded his original expectations. John knows the broker negotiated aggressively to get him the best price and terms possible.
According to the Australian Bureau of Statistics, between 2018 - 2022, Australia experienced an average annual turnover of business entry and entries of 12% - 19%. Many of these businesses were sold using a broker.
Australian business entries and exists (2018 - 2022)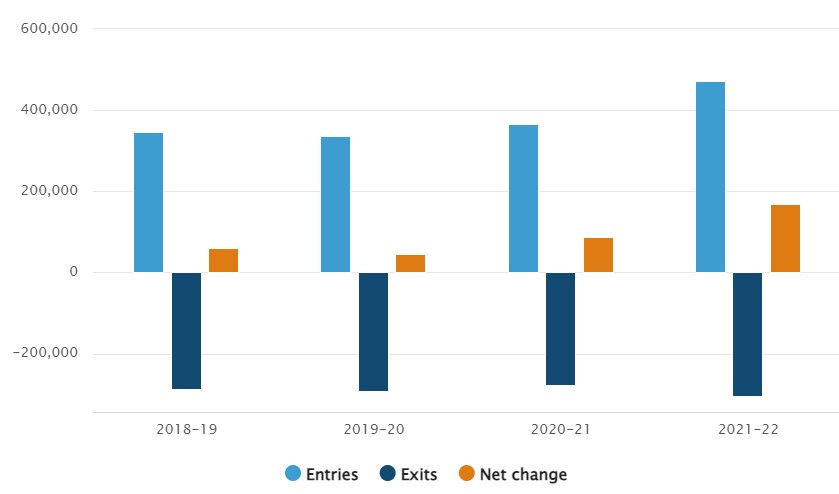 Source: Australian Bureau of Statistics

There are pros and cons to using a business broker when selling your business. Brokers can provide valuable assistance with finding buyers, negotiating terms, achieving the best sale price and handling administrative tasks. Brokers do charge a commission and often marketing fees. If you decide that the cost of using a broker is not right for you, there are alternatives to consider, such as selling the business yourself or working with an accountant, business transfer specialist or lawyer.

As the above 2 scenarios demonstrate, avoiding commission does not necessary leave you with more money at the end of the sale.