If you're contemplating selling your business or buying a business, working with a business broker is a critical resource to ensure success. As a comparison, consider your success rate of selling a house without a real estate agent. A broker can help you find the right business, negotiate a fair price, and handle the legal and financial aspects of the transaction. However, like any professional, a business broker is only as effective as the client allows them to be. Try to avoid these top 5 mistakes, to avoid wasting time, money and ending up with a poor result!

Mistake #1. Not doing your research on the broker.
Before you engage a broker, you should do your due diligence on them. You're going to be working closely with the broker over the next 6 months. Fools rush in! Check their credentials and experience. Are they licensed and accredited? How long have they been in business? Have they successfully brokered deals similar to yours? Ask them to speak with a few of their satisfied previous clients.

Mistake #2. Not having a clear idea of what you want to achieve.
If you don't know what you want to achieve, how can you expect the broker to satisfy your requirements? Brokers are not mind readers. And while every sale will have a few things in common, often the objectives of sellers can be unique. D So define your goals and objectives. What type of business are you interested in buying? Or what is your ideal sale price? What does the perfect deal look like in your mind? What is your budget and financial constraints? Do you have deadlines or time parameters to work within? The more specific you are, the easier it will be for the broker to achieve a successful outcome.

Mistake #3. Not communicating effectively with the broker.
Communication is key in any professional relationship. Make sure you provide the broker with clear and accurate information about your expectations. Expectations change over time. Keep them updated as your perception shifts. It's okay to change your mind or for your circumstances to change, but you need to communicate this to them. Be open and honest with them. The broker is working for you, so don't be afraid to speak up if you have concerns or questions.


Mistake #4. Not being realistic about the process.
Buying or selling a business is a big undertaking. Sometimes it's a once-in-a-lifetime milestone. So it's important to go into the process with realistic expectations. Recognize that finding the right deal can take time. It is not unusual for the process to take 6-12 months from start to finish. It may involve looking at many different options over a period of many months and through several rounds of negotiation. Unless you're in an especially fast moving market, expect bumps and set backs along the way! Be patient and stay focused on your goals.

Mistake #5. Not being prepared to negotiate.
Negotiation is a normal part of any business buying process. Rather than put it out of your mind, anticipate it and prepare for it. Know your limits. Be willing to walk away if a deal isn't right for you. Have in mind offers and solutions to counter with. The worst position that you can put yourself in, is one where you are desperate for a sale. This will undermine your potential negotiating leverage. Seek the advice of legal and financial professionals as needed. A good broker will help you navigate the negotiation process, but ultimately, it's up to you to make the final decision.

According to the Australian Bureau of Statistics, between 2018 - 2022, Australia experienced an average annual turnover of business entry and entries of 12% - 19%. Many of these businesses were sold using a broker.
Australian business entries and exists (2018 - 2022)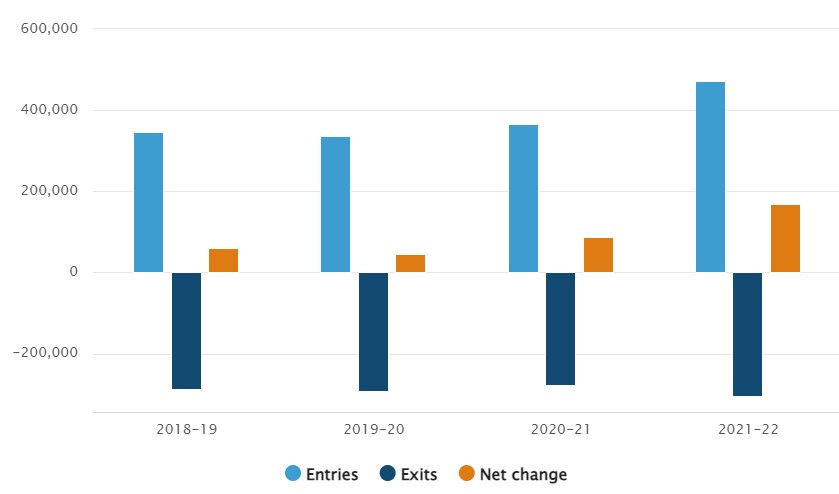 Source: Australian Bureau of Statistics
Working with a business broker is a great way to sell or buy a business. Every day, brokers assist businesses to find the right deal. Just be sure to avoid these common 5 mistakes mentioned above. Do your research on the business broker. Have a clear idea of what you want out of the deal. Communicate effectively and often with your broker. Be realistic about the process and timeframes. Be prepared to negotiate. Do these things, and you'll be on your way to a successful transaction!