Target Marketing - Targeting the ideal buyer for your business
In the current business climate the old methods of selling businesses no longer work. The scattergun approach to marketing businesses for sale no longer draws the desired response. The uninitiated might judge the success of a website or newspaper's or magazine business sales potential by the number of ads displayed. But at Lloyds Business Brokers, we noticed that we were getting poorer and poorer responses from more and more ads. Something more than what others were doing was required.
The solution we adopted is "Target Marketing", which is a combination of direct approaches to identifiable potential buyers, backed up by a directed marketing campaign.
"Target Marketing" is based on the premise that the most likely buyer for a specialized business is someone from within the industry, or in a synergistic business. Our Research team is used to ensure that our Expression of Interest Buyer/Blast are properly and individually addressed to reach their target, the potential buyer, and to maintain maximum confidentiality.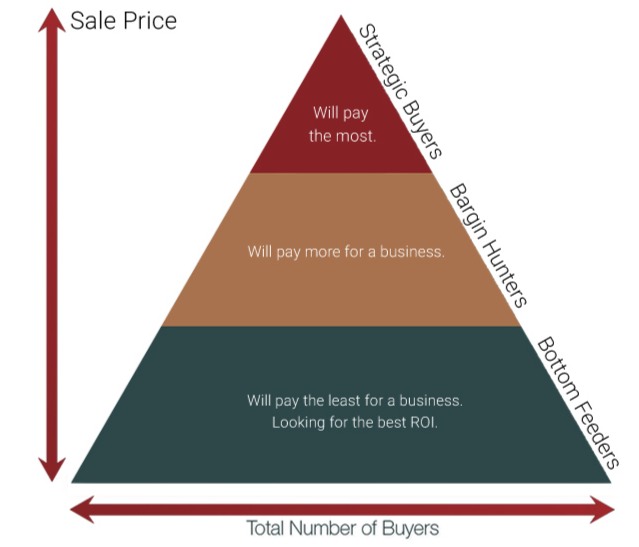 Lloyds Business Brokers carefully researched and compile an extensive list of potential buyers in every industry category, and are continually updating this information.
Our data base is 38 years in the making and is being continually update with industry research, Private Equity Groups, Accountants, Business Migration Brokers, Business Advisors and Consultants. Our "Target Marketing" is backed up by directed marketing in the most appropriate National and International Websites, publications or trade journal, to pick up any potential buyers that may have been overlooked, and to reinforce the tender to the targeted buyers.
The difficulty is - how to sell a business without telling everyone it is for sale, whilst still maintaining utmost confidentiality for the vendor. This is addressed by ensuring that a binding "Confidentiality Agreement", incorporated in the "Expression of Interest", is signed prior to any business name or details being disclosed
Those buyers who have signed the Expression of Interest/Confidentiality Agreement receive a business profile, compiled in co-operation with the Vendor's Accountants, and are then invited to attend an inspection, forum, or open day, attended by both Accountants and Solicitors for the Vendor. This eliminates protracted individual negotiations with each buyer, and sets in motion dynamics between competing buyers that would usually only be generated in an Auction situation.
Private Tenders are then called. This process not only creates buyer competition to maximize selling price, but also condenses the time to sell the business.
Lloyds Business Brokers have compiled an impressive record of business sales in the $500,000 to $40 million price bracket.
Following are several case histories where "Target Marketing" has worked with clear success:-
Arrows Express - Established over 38 years complete Transport, Logistics and Freight solutions Australia wide, offering a complete hauling solutions for Australia. After running an International Tender Lloyds had over 60 potential buyers reviewed the business and several bids were received and was eventually sold to an Investment Group from London who with the owners retaining 20% will be actively growing the business.
Switch Gear Company was formed to realize an opportunity in the Australian electrical manufacturing market. Australec was the 13th company to challenge the established duopoly, and the first business to be successful and recognised as a long-term competitor. The founders had an established relationship with an offshore manufacturer through the patent development and manufacture of electrical safety equipment, and this manufacturing base was used to provide high quality electrical switch mechanisms to independent Australian electrical wholesalers when their previous lines were found to be faulty. Over 103 potential buyers reviewed the business and 6 bids were received and eventually sold to a Singapore based specialty group.
Wrights Industrial Waste - A seventy-year-old family company that had controlled the waste disposal industry in a major provincial city. Telemarketing reduced an initial list of over 2,800 prospects down to 28 potential buyers and eventually 8 Tenderers. The sale price achieved exceeded the vendor's reserve.
Pro Concrete - The company focuses particularly on hiring concrete pumping equipment to major construction companies involved in commercial high-rise projects and infrastructure work. It supplies the service of Concrete Pumping to the construction industry leaders, such as Multiplex, Leightons, Built, Grocon, Abi Group, Westfield, Mirvac, Watpac etc. .
Farnsway/Faminco - A specialized underground mining contractor. Lloyds Target Marketing located a multinational open-cut mining contractor with no underground mining division, who was able to derive considerable synergies through acquiring the business to add to the range of services it could offer to offer its clients.
Sports People - Established in 1999, the business is the 'go-to' jobs board in the industry with excellent exposure and marketing channels. Its SEO is ranked #1 in Australia and #3 worldwide. This niche business sold after an intense and highly successful marketing campaign that resulted in 60 qualified enquires and 7 offers on the table. An offer from a Hong Kong based Family Office was eventually accepted.
Delta-Pak A manufacturer and distributor of a range of wet-wipe products for the infant and adult hygiene market, dry wipes for the commercial and retail markets, and liquid fill products such as disinfectants for the FMCG market. Delta-Pak manufactures products under long term contracts to major international companies, with exclusive manufacturing agreements in place.
FCI Burndy Manufacture of patented electrical cable support systems. This loss-making division of a multi-national French company was marketed successfully to deliver 25% market share to the company's major competitor.
Megatoy Australia's leading manufacture of children's playground equipment, sold to Lego International based in Denmark, who had been trying for years to secure the #1 position.
Terra Firma Fertilizers A manufacturer of retail branded fertilizers marketed to a manufacturer of bulk commercial fertilizers looking to enter the higher-margin arena.
Alquip Major manufacturer of mobile aluminium scaffolding, sold initially to a private investor, then, some years later, re-sold by Lloyds to Hills Industries, to complement their Bailey Ladders business, which Hills Industries had previously bought through Lloyds.
Network Imports Exclusive Australian importer of well-known brand of homewares, with a T/O of $12m, created an intense bidding war which resulted in a sale to a synergistic buyer from China, at a price will in excess of the Vendor's reserve.
VCS Hunter Valley based company is a rapidly growing leader in providing technical and mechanical services and equipment to the mining industry as well as other sectors. The company has the appropriate accreditations to provide mining services as well as manufacture equipment to cater to client needs. Support and expertise is available to both underground and open cut mining operations in Australia and abroad. The existing management team will continue to manage the day-to-day operations of the business.
Graham Lusty Trailers - Provide a fully welded construction, which makes them extremely strong and clean as well as providing the smooth lines of a conventional tipper. Each trailer is manufactured to their customer's specific road transport and carrying requirements. The additional carrying capacity has the benefit of less time on road, which provides significant savings in time and the all-important bottom line. Sold to private equity arm of Teaminvest, Teaminvest Private seeks to primarily undertake investments in the size of AU$5m to AU$50m. Team Invest predominantly seek control of their investments), they are prepared to consider strategic stakes in businesses where a smaller investment is in the company's long term interest.
Australia's Leading On-Line Home Appliance Retailer - They are Australia's largest and most successful online kitchenware retailer, who receive over a million visits to their website a month. More people come to our client for kitchenware than any other store. They also supply a range of knives for commercial customers. Sold to another on-line retailer.
Pacific Transcription - An Australian transcription (typing) company with significant market share in all fields including medical, finance and academic. The company holds a number of larger clients won by tender and a diverse client base with services provided to over 500 clients. Company owned and developed web software manages client base providing scale opportunities (software forms part of the sale). The company can be run from any location via the web.
Sanbella Holdings - A supply chain partner who specialises in customer focused tanker freight and customer driven services. The business operates around the monthly Tallow tenders, which the abattoirs in South East Queensland and Northern NSW put out for tender each month. These tenders are bid on by Tallow and by product Traders; the product is delivered to storage tanks for processing in Australia and shipped on bulk carriers to international markets.
The best news is saved till the end:
Contact us for a no-obligation, free pre-sale business evaluation to determine the current market value of your business. That way, you can decide, without risk, whether it is worthwhile to attempt a sale at this time. Lloyds Business Brokers can work with you and your Accountant to produce a professional Business Information Memorandum designed to present your business in the best possible light.



Commission Only on Sale
We have enough confidence in our ability to sell your business to charge commission only in the event of a successful sale, subject to a minimum commission. Reasonable travel costs outside of our offices, incurred with your written consent, and the cost of any marketing, advertising or additional financial services agreed to between us.
Lloyds Business Brokers are not publishers, and earn no secret commissions from the publishers of any media we may recommend for the placement of your Marketing Budget.




Maximum Value, Fast!
We specialise in achieving the maximum sale price for your business with the best possible deal structure for you and within a fast timeframe.

Real Business Experience
Lloyds have over 39 Years of industry experience with a team of passionate and qualified business brokers, specialising in mid-market business sales of $1 million to $100 million.

Free Business Appraisal
A qualified business broker will provide you with an obligation free, pre-sale appraisal of your business, so you know what approx timeframe and price to expect before proceeding.

Access To Buyers
Lloyds has an Australian and International reach, with a database of over 50,000 prospective buyers and equity firms ready to start marketing your business to.

Confidentiality Guaranteed
With discrete marketing techniques your confidentiality before, during and after the sale process is guaranteed.

Step-By-Step Guidance
We step you through the process finding the right buyer, preparing to achieve maximum sale value and closing the sale.
Meet our team of passionate and talented brokers: