Australia the Country most benefiting from High Net Worth Individuals moving Countries
Data shows that 16,000 Chinese and 7,000 Indian high net worth individuals moved out of their respective countries in 2019. The study by AfrAsia Bank covered only individuals with a net worth of $1 million to $9.9 million, who took up residency in a new country and spent at least half of the year there.
While these millionaires for China and India constituted only a loss of 2 percent of their HNWI (high net worth individuals) population, relative outflow from Russia and Turkey was higher at 6 and 8 percent, respectively.
According to the report, work opportunities, tax and financial concerns were among the reasons HNWI were deciding to make these moves. But the decision could also be of a personal nature. Better health care systems, better education systems, safety, a better standard of living and - last but not least - escaping an oppressive regime also led to HNWI picking a new home.
Australia topped the list of receiving countries, attracting 12,000 HNWI in 2019, which upped its HNWI count by 3 percent. The U.S. and Switzerland came in rank two and three, adding 10,800 and 4,000 HNWI.
Australia Dominates
Australia was the top country worldwide for HNWI inflows in 2019, just beating its main rival USA, popular places for HNWI's to move to in Australia included Sydney, Melbourne, Perth, Gold Coast and Sunshine Coast.
Australia tops the list possibly due to its points-based immigration system which favours wealthy people, business owners and people with professional qualifications (especially Lawyers, Accountants, Doctors and Engineers).
Other possible reasons for Australia popularity include:
The safety of the country - low crime rate

Climate Nature and Security

The appeal of bringing up children and going to school/university in the country

English speaking country. Almost all HNWI globally know English as their first or second language

First World Economy

Fist Class Health system. It is also relatively easy for incoming HNWI's to pay their way onto this system, unlike the USA where health care insurance can be complicated and expensive especially for older Groups.

Growing economy - one of the fastest growing markets worldwide over the past 20 years (in terms of wealth growth and GDP)

Space - Australia has only 26million people and is a large country

Tax Rates - although company tax and income tax rates in Australia are quite high, it should be noted unlike other developed countries, Australia has no Inheritance taxes - this encourages wealthy people to stay in the country and build businesses for future generations.
Following the United States, China (including Hong Kong) ranks second in the number of ultra-high net worth individuals (HNWI) with a net worth of 30 million U.S. dollars and more. Although their quick wealth accumulation owes mainly to China's economic prosperity in the last decades, many rich people from China are considering making more overseas investment, transferring their wealth abroad or even emigrating to another country. "Going abroad" is not only a motto of Chinese enterprises suffering from China's economic slowdown, but also many Chinese rich people.
Severe pollution in big cities, education environment with endless competition, RMB depreciation¦¦ there are various reasons why the rich Chinese want to leave their motherland. Among all these motivations, to provide their next generation with better education and opportunities became the most popular one. Different from their parents who might even hardly speak English, the children of the HNWIs already get international education when they are in China and are expected to become talents with global horizon.

As an important part of their wealth management, overseas investment is exploited by Chinese HNWIs to balance the risks from strict regulated domestic investment market. In the overseas investment market, investors could have a wider variety of financial products to choose from. Benefiting from the dramatic growth of the domestic real estate market in the past decades, many Chinese are also seeking opportunities in the overseas real estate market. Since they are not familiar with the capital market abroad, many HNWIs search for professionals like private banks to help them manage their overseas wealth. And Hong Kong is popular for such business due to its location and special legal regulations.
For those who are considering if they want to move with the whole family abroad, an outbound journey should be their first step to know more about the world. The outbound tourism market is booming in China. Among the overseas travel destinations, European countries are still the most visited overseas destinations by China's HNWIs. Since many HNWIs from China have their main business in China, they buy real estate properties overseas and only spend long holidays there.
Portugal and Greece were also among the top 10 of countries attracting HNWI. In addition to their sunny climates, both countries run investor programs which grant access to EU residency and citizenship. Only around 30 percent of HNWI emigrate using investor visas, however. The majority actually uses traditional means like work visas, family visas or gaining a second passport through ancestry.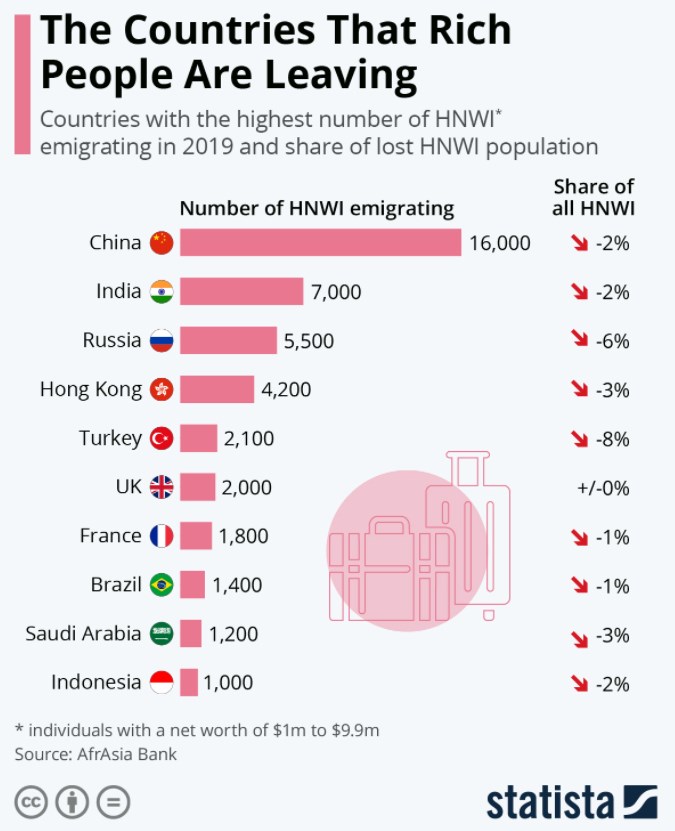 Source: www.statista.com
Katharina Buchholz
Data Journalist
Lloyds has impressive list of sold businesses in gold coast (QLD)