Press release
The Book House, The Schoolbook House, Earlybird Books and the Written Dimension Bookshop in Noosa - to– a new entity associated with Holt Private Capital Pty Ltd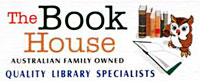 These long established and highly profitable Noosa, Queensland based businesses are specialist, wholesale suppliers of books and other library supplies to school and government libraries, mainly in Queensland and NSW. The Group also has a retail outlet and ABC store in the main Noosa shopping centre and an online product selection and ordering system.
The sale of the business was conducted by our Senior Associate Mr. Neil Stevenson using Lloyds Tender Process in conjunction with the application of Lloyds Target Marketing approach which resulted in a highly successful Trade Sale.
Click on the left navigation links to read more news and press releases.
View list of businesses sold by Lloyds