Sector: Education, Wholesale Distribution Online
The Book House, The Schoolbook House, Earlybird Books and the Written Dimension Bookshop in Noosa
Sold to a new entity associated with Private Equity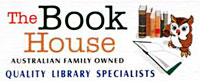 This long established and highly profitable Noosa, Queensland based businesses are specialist, wholesale suppliers of books and other library supplies to school and government libraries, mainly in Queensland and NSW. The Group also has a retail outlet and ABC store in the main Noosa shopping centre and an online product selection and ordering system.
Reading a book can be a deeply personal experience. Once a reader has reached the final page of a book, their perspective may be changed forever, their mind being set on a path to further discovery and exploration. This is the power that a book can have on young readers. "The Book House" and "Early Bird Books" have spent years serving the community in this way.

The Book House
"The Book House" has been Australian owned and operated since it's inception in 1979. Since that time it has earned an outstanding reputation with schools, retailers and libraries throughout Queensland and throughout Australia. With the ability to source both local and international books, e-books, audio-visual learning materials, study textbooks and DVDs, it has developed long lasting partners with suppliers, schools and major publishers.
"The Book House" has an in-house team with a wealth of knowledge and experience, providing a range of services including:

Early Bird Books
"Early Bird Books" provides users with the ability to sign up for free books, enabling them to read the books on any device and keep the books. This fantastic online service brings users free or near-free bargain ebooks, matching their personalised tastes and interests.
Early Bird Books does not just deliver books and e-books, it also delivers stories about the books themselves and their authors who have inspired generations. Delivering interviews with famous authors, thematic reading lists, personalised book recommendations, exclusive deals on bestsellers, extracts from exciting up-and-coming novels, and many more customisable digital services.
Early Bird's parent company "Open Road", is a digital publisher of multimedia content founded by Jeffrey Sharp, an Academy Awardwinning film producer and Jane Friedman, a former CEO and president of HarperCollins Publishers, Open Road has had the pleasure of publishing ebooks from renown writers including Virginia Hamilton, Pat Conroy, William Styron and Jack Higgins.
Looking for a business specialist to help sell your business? Contact our Brokers in Sydney, Melbourne, Brisbane or Adelaide.
The sale of the business was conducted by our Brisbane M&A Team using Lloyds Tender Process in conjunction with the application of Lloyds Target Marketing approach which resulted in a highly successful Trade Sale.
Lloyds QLD team of toowoomba business brokers, sunshine coast, gold coast (QLD) and mackay business brokers will be glad to assist you with the sale of your business.